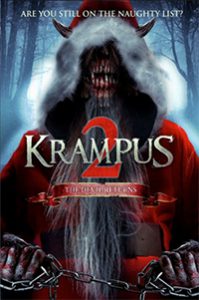 Back in the late 80's there was a movie called, "The Barbarians", that I touted as being the worst movie I had ever seen. A year later, the movie, "Caddyshack 2", gave the Barbarians a run for it's money.
So, since the late 80's, the worst movie I had ever seen was a toss-up between, "The Barbarians", and, "Caddyshack 2".
Well, that time has come and passed. The worst move I've ever seen is now a slam dunk; "Krampus 2."
I went to Halloween Horror Nights at Universal Studios this year. One of the haunted houses was Krampus. So, last night while searching for a scary movie to watch, I come across, Krampus, and think, oh, it must be good. Universal has a haunted house dedicated to it, it must be worth watching.
Holy wow! This movie is bad. The poor writing is only matched by the horrible acting and direction.
The plot is basically there is some demon who captures naughty kids around Christmas time…. and kills them. You can tell the rest of the story is pretty much made up as they go along.
Krampus himself is a cheesy looking demon in a santa outfit that moves so slowly I found myself yelling at the screen, "Go, damn you! Get to steppin'!" I've seen geriatrics with walkers who have more spring to their step. He's partnered with a guy who is also dressed as santa. Then later in the movie they reveal that he really IS santa.
There's also some cops that are investigating the kidnappings. Oh, and there is a gang of fat out of shape guys, and one busty lady who want to kill one of the cops. What that has to do with the plot of the movie? Nothing. They probably owed the gang leader guy some money so they gave him a part in the movie.
Also, there is a pretty graphic sex scene that also has nothing to do with the plot of the movie.
SPOILER ALERT: Everyone dies. Nobody cares.
There you have it. The worst movie I've ever seen. Krampus 2.